And How fullthrottle.ai Enhances Your Current AdTech Stack
by Lou DiGiacomo, VP of Product
The Risk of Redundancy
With AdTech leaders being assigned the formidable task of building the most powerful and cost-effective data solutions, the quest for a lean and efficient tech stack is plagued by redundancy.  
 Paying multiple vendors to do the same thing means there are money and people resources being wasted. As a result, AdTech decision-makers need to approach new partners and their technologies with a healthy dose of skepticism. 
"Where does this tech fit in the ecosystem?"
"Can we already do this?" 
 These are the magic questions often asked when trying to mitigate potential redundancy risk. When searching for these answers, it's natural to bucket a piece of technology into a pre-existing category, essentially a "common component," of the modern AdTech stack. This bucketing makes it quicker and easier to vet expected capabilities based on what other similar technologies can achieve.  
While this can be helpful to navigate most of AdTech, it will make it difficult to assess if something is truly innovative. Unfamiliarity can bucket a disruptive way of thinking or a technical breakthrough into a common component's category, even though there is a vastly different function. 
Net New Additive Value
To Your Current AdTech Stack
 In the case of fullthrottle.ai, we love talking about these common components. Not only does it give us the opportunity to discuss how our tech is additive to their current capabilities, but we can also discuss how our capabilities are interoperable with and will even enhance these existing technologies. 
Data Aggregators? CDPs? Universal ID solutions? These are all critical pieces and common components of the modern AdTech stack, with a massively different set of capabilities than what fullthrottle.ai provides.  
Check out this quick cheat sheet that expands on some of these common components, how fullthrottle.ai is different, and how we enhance what they're already doing: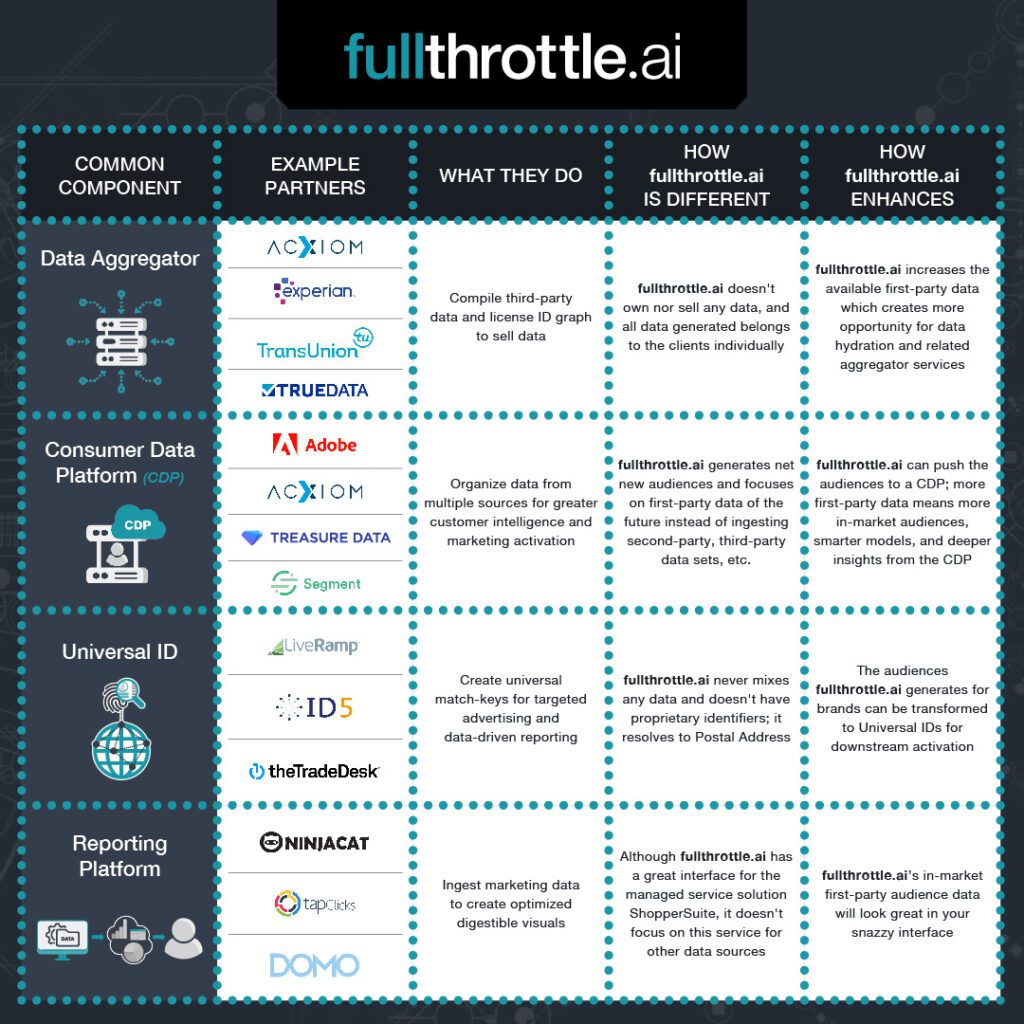 fullthrottle.ai's specialty is generating unique cookieless first-party household data and crafting an open first-party data addressability framework rooted in data democracy.
You can think of our technology powering the common components through an always-on First-Party Data Current. It's like flipping a circuit switch: a brand connects to our API and immediately unlocks audiences that would otherwise be lost due to tech deprecation. 
If your company has built a tech stack that includes one or more of these technologies, fullthrottle.ai will provide net new first-party household audiences, while galvanizing the downstream processes.  
 Give us a shout to schedule a demo and learn more about our interoperability and innovative tech!